---
---
DESCRIPTION
The OEM manufacturers spend a lot of time reducing turbo noise at the expense of horsepower.  By letting the turbo ingest all of the cold air it needs the Alpha Mercedes-Benz AMG M133 2.0L Performance Air Intake boosts power significantly.  In addition, it allows you to hear the turbo spool up which is something you as an enthusiast can appreciate.
Simple Upgrade, BIG Power Increase
Our engineering team immediately noticed a considerable level of restriction in the intake system and solved the problem by designing a smooth transition to a much larger filter.  By upgrading the size of your 2.6″ factory inlet filter to a robust 4″ design, we drastically reduced the high pressure drop –  a sure indicator that your stock intake filter is choking your 2.0L M133 turbocharged engine. By simply installing this Air Intake Upgrade, you'll be rewarded with a 20+HP increase with just this simple modification alone!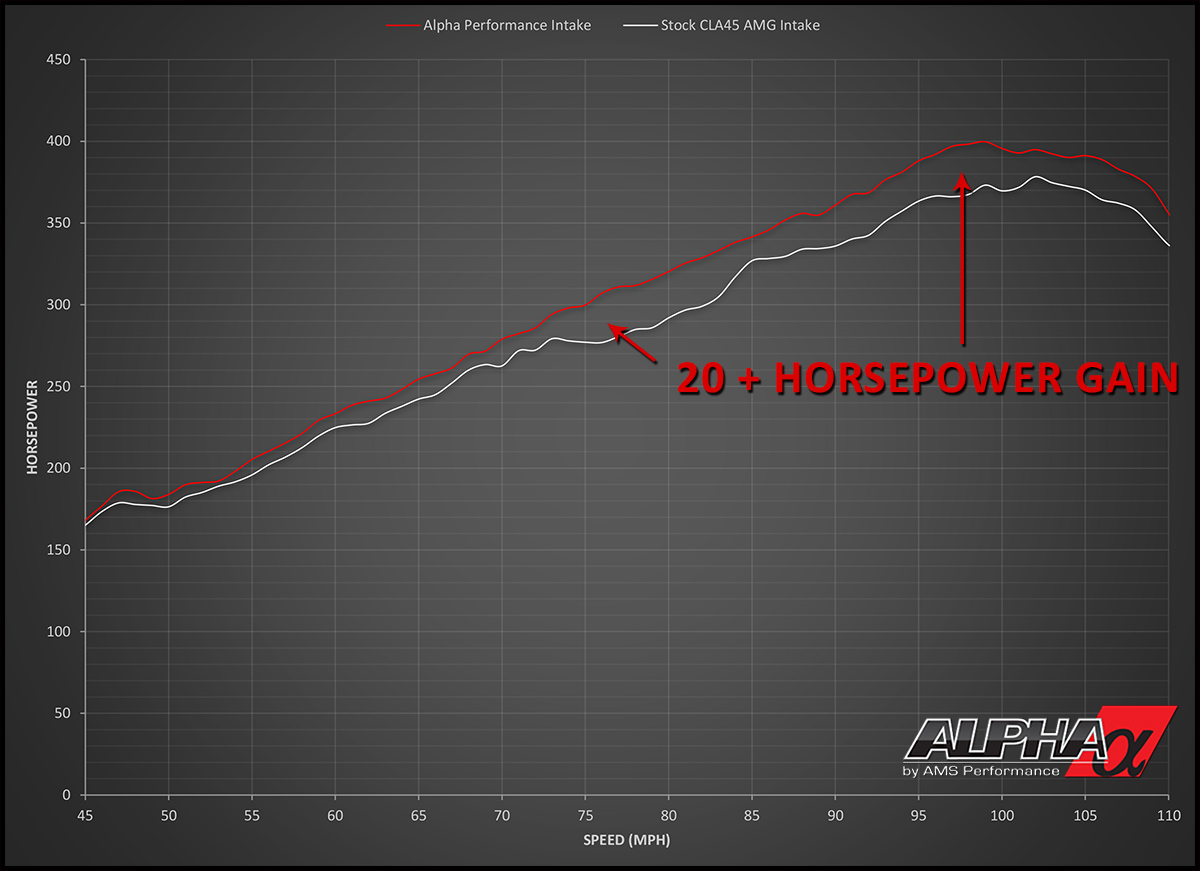 Alpha 4″ inlet compared to the stock 2.6″ inlet design
 
Cool Air For Your Hungry Turbocharged Engine
Often, aftermarket intake systems feature an open air filter element which reduces horsepower by drawing hot air from within the engine bay.  This may net you some power on the dyno while the hood is open and cooler air is available, but decreases performance when the hood is shut.  By taking full advantage of cool outside air provided by the sealed air box, you reap the benefit of maximum power as you fly through the gears of your Speedshift DCT 7-speed transmission.
Easy, Non-Invasive Installation
The Alpha M133 2.0L Performance Air Intake requires no cutting or permanent modifications to your car.  It simply bolts into the sealed factory air box in 15 minutes or less.
 
Built To Last The Life Of Your Car
CNC'd billet aluminum construction and an anodized coating ensure this piece will look and perform great for years to come.  The smooth and strong mounting surface for the air filter ensures a tight seal.  Couple that with a purpose built, synthetic high-flow dry media filter means you won't have to buy those cheap factory paper filters down the road.  Simply remove and blow off the filter with compressed air periodically or wash out and let it dry.  No messy oils or special chemicals needed.
Clear anodized CNC billet aluminum intake inlet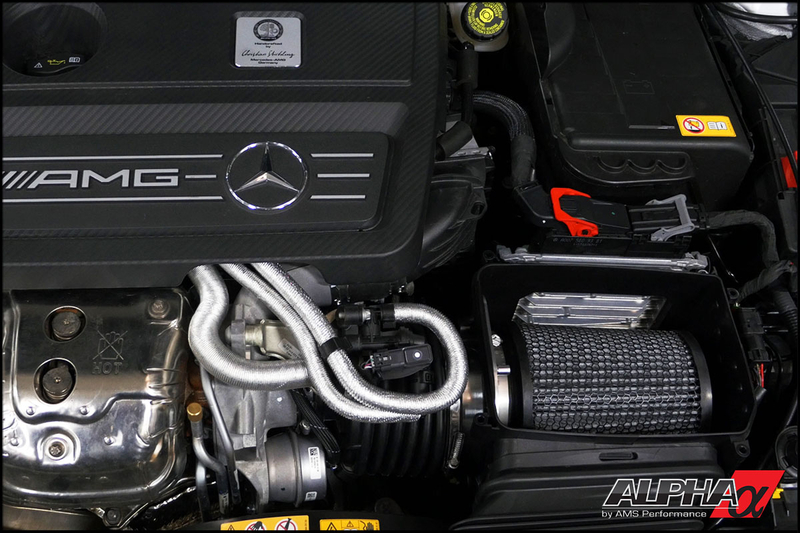 Stock air box cover removed to show Alpha Performance Intake. Easy installation – gains 20+ horsepower!
Optional Carbon Fiber Cold Air Intake Duct & Air Box Lid
For added performance and aesthetic appeal you can choose to add our Carbon Fiber Cold Air Intake Duct and Air Box Lid. In an effort of cost savings your 2.0L M133 turbocharged engine comes equipped with a plastic air duct which is corrugated on the inside disrupting flow. To make matters worse it also features a big support "pillar" in the middle of the airflow path to keep the flimsy plastic from collapsing which hinders power output. With the Alpha Carbon Fiber Air Intake Duct we eliminated these restrictions supplying your hungry engine with all the cool air it needs!
Do it right the first time, order your Alpha Performance Intake System today!
Exclusive Benefits
---
20+HP increase in just 15 minutes

Uses factory ducting for cooler air charge and maximum power

Reduces turbo lag

Smooth transition for best airflow

High-flow, low maintenance dry media filter (no filter oil required)


No computer tuning needed
Product Notes
---
Our filter uses a specially designed media that restores performance and efficiency to near new each time by simply cleaning it with compressed air (30-40 psi) from the inside out. Frequent washing is unnecessary in order to restore filter performance. For a deep cleaning after exposure to extreme environments, a biodegradable cleaner such as Simple Green or other mild shop degreaser can be used. Place the filter in a solution or spray the cleaner on the filter. Allow the solution to loosen dirt particulates and rinse thoroughly. Shake the filter or use compressed air from the inside blowing outward to remove residual water. Allow a full day to dry.
Kit Instructions
---
Alpha Mercedes-Benz AMG M133 Performance Air Filter & CNC Aluminum Adapter Install Instructions can be downloaded

 

here.
Applications
---
W176 2013-2018 Mercedes-Benz A45 AMG
C117 2014-2018 Mercedes-Benz CLA45 AMG
X156 2014-2019 Mercedes-Benz GLA45 AMG
---