---
---
DESCRIPTION
From the factory, you can expect your Mercedes-Benz M157 / M278 / M133 engine to produce a high level of boost pressure (27.5psi as tested). This in turn, creates extremely high charged air temperatures prior to entering the stock liquid cooled heat exchanger (intercooler). Although adequate under normal driving conditions, the stock heat exchanger responsible for cooling this boosted air underperforms when your MB is driven aggressively, in warmer climates or when subjected to extended operation.
Get The Most Power From Your M157 / M278 / M133 Equipped Mercedes-Benz

Whether you are running stock or upgraded components on your Mercedes-Benz turbocharged engine, the Alpha Performance Mercedes-Benz M157 / M278 / M133 Heat Exchanger Upgrade offers much greater efficiency – providing consistently cooler boost temperatures while combating heat soak issues.  Beneficial throughout everyday driving, this level of cooling is even more crucial to consistent performance on a road course or dragstrip.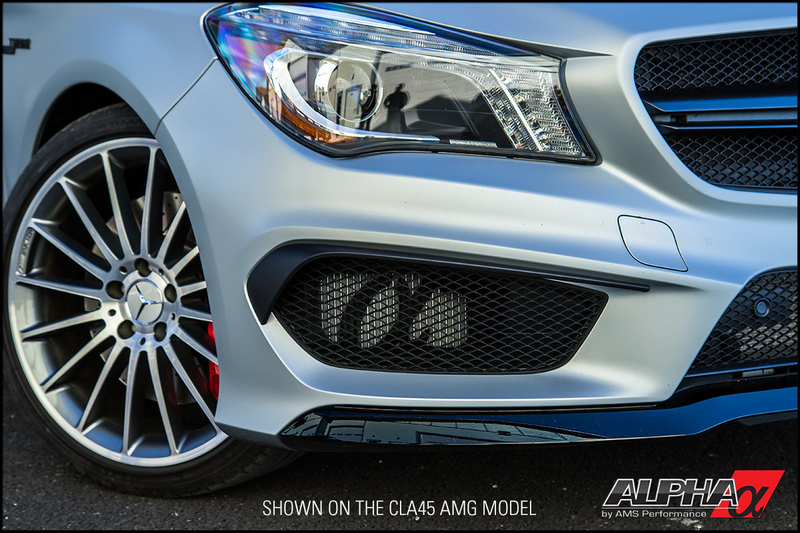 An upgrade to the factory heat exchanger in both overall size and efficiency, ours offers better cooling of the intercooler system fluid. Being 38% larger than stock our heat exchanger core provides additional liquid capacity for greater heat dissipation. This allows the system to maintain lower fluid temperatures throughout extended periods of high throttle operation. To improve flow and reduce pressure drop, our engineering team went a step further by tapering the inlet and outlet for smoother flow.  All of this will result in cooler intake air charges and maximum power!
Super Easy, Direct Bolt-In Intercooler Upgrade
With normal hand tools, the Heat Exchanger Upgrade installs within 1.5 hours.  Simply remove the wheel, inner fender liner and the factory heat exchanger.  The new unit swaps right in using factory hardware without any cutting or modifications to your car.
Do it right the first time, order your Alpha Performance Heat Exchanger Upgrade today!
Exclusive Benefits
---
38% more core volume

22 fins per inch core made to Alpha spec

Motorsport quality heat exchanger core made in the UK

Core and tanks designed in CFD heat transfer software to allow for greatest heat dissipation

Billet aluminum end tanks

Installs in 1.5 hours without cutting or drilling

Can be used on stock or modified vehicles
Applications
---
Replaces factory part number A 099 500 32 03

| | | |
| --- | --- | --- |
| 2019 Mercedes-Benz CLA 45 AMG® | 4Matic® | 2.0L L4 – Gas |
| 2018 Mercedes-Benz CLA 45 AMG® | 4Matic® | 2.0L L4 – Gas |
| 2017 Mercedes-Benz CLA 45 AMG® | 4Matic® | 2.0L L4 – Gas |
| 2016 Mercedes-Benz CLA 45 AMG® | 4Matic® | 2.0L L4 – Gas |
| 2015 Mercedes-Benz CLA 45 AMG® | 4Matic® | 2.0L L4 – Gas |
| 2014 Mercedes-Benz CLA 45 AMG® | 4Matic® | 2.0L L4 – Gas |
| 2014 Mercedes-Benz CLS 63 AMG® | 4Matic® | 5.5L V8 – Gas |
| 2013 Mercedes-Benz CLS 63 AMG® | Base | 5.5L V8 – Gas |
| 2012 Mercedes-Benz CLS 63 AMG® | Base | 5.5L V8 – Gas |
| 2018 Mercedes-Benz CLS 63 AMG® S | 4Matic® | 5.5L V8 – Gas |
| 2017 Mercedes-Benz CLS 63 AMG® S | 4Matic® | 5.5L V8 – Gas |
| 2016 Mercedes-Benz CLS 63 AMG® S | 4Matic® | 5.5L V8 – Gas |
| 2015 Mercedes-Benz CLS 63 AMG® S | 4Matic® | 5.5L V8 – Gas |
| 2014 Mercedes-Benz CLS 63 AMG® S | 4Matic® | 5.5L V8 – Gas |
| 2015 Mercedes-Benz E 63 AMG® | 4Matic® | 5.5L V8 – Gas |
| 2014 Mercedes-Benz E 63 AMG® | 4Matic® | 5.5L V8 – Gas |
| 2013 Mercedes-Benz E 63 AMG® | Base | 5.5L V8 – Gas |
| 2012 Mercedes-Benz E 63 AMG® | Base | 5.5L V8 – Gas |
| 2016 Mercedes-Benz E 63 AMG® S | 4Matic® | 5.5L V8 – Gas |
| 2015 Mercedes-Benz E 63 AMG® S | 4Matic® | 5.5L V8 – Gas |
| 2014 Mercedes-Benz E 63 AMG® S | 4Matic® | 5.5L V8 – Gas |
| 2018 Mercedes-Benz G 63 AMG® | Base | 5.5L V8 – Gas |
| 2017 Mercedes-Benz G 63 AMG® | Base | 5.5L V8 – Gas |
| 2016 Mercedes-Benz G 63 AMG® | Base | 5.5L V8 – Gas |
| 2015 Mercedes-Benz G 63 AMG® | Base | 5.5L V8 – Gas |
| 2014 Mercedes-Benz G 63 AMG® | Base | 5.5L V8 – Gas |
| 2013 Mercedes-Benz G 63 AMG® | Base | 5.5L V8 – Gas |
| 2018 Mercedes-Benz G 65 AMG® | Base | 6.0L V12 – Gas |
| 2017 Mercedes-Benz G 65 AMG® | Base | 6.0L V12 – Gas |
| 2016 Mercedes-Benz G 65 AMG® | Base | 6.0L V12 – Gas |
| 2016 Mercedes-Benz GL 63 AMG® | Base | 5.5L V8 – Gas |
| 2015 Mercedes-Benz GL 63 AMG® | Base | 5.5L V8 – Gas |
| 2014 Mercedes-Benz GL 63 AMG® | Base | 5.5L V8 – Gas |
| 2013 Mercedes-Benz GL 63 AMG® | Base | 5.5L V8 – Gas |
| 2018 Mercedes-Benz GLA 250 | 4Matic®, Base | 2.0L L4 – Flex, 2.0L L4 – Gas |
| 2017 Mercedes-Benz GLA 250 | 4Matic®, Base | 2.0L L4 – Flex, 2.0L L4 – Gas |
| 2016 Mercedes-Benz GLA 250 | 4Matic®, Base | 2.0L L4 – Flex, 2.0L L4 – Gas |
| 2015 Mercedes-Benz GLA 250 | 4Matic®, Base | 2.0L L4 – Flex, 2.0L L4 – Gas |
| 2018 Mercedes-Benz GLA 45 AMG® | 4Matic® | 2.0L L4 – Gas |
| 2017 Mercedes-Benz GLA 45 AMG® | 4Matic® | 2.0L L4 – Gas |
| 2016 Mercedes-Benz GLA 45 AMG® | 4Matic® | 2.0L L4 – Gas |
| 2015 Mercedes-Benz GLA 45 AMG® | 4Matic® | 2.0L L4 – Gas |
| 2018 Mercedes-Benz GLE 63 AMG® | Base | 5.5L V8 – Gas |
| 2015 Mercedes-Benz ML 63 AMG® | Base | 5.5L V8 – Gas |
| 2014 Mercedes-Benz ML 63 AMG® | Base | 5.5L V8 – Gas |
| 2013 Mercedes-Benz ML 63 AMG® | Base | 5.5L V8 – Gas |
| 2012 Mercedes-Benz ML 63 AMG® | Base | 5.5L V8 – Gas |
| 2017 Mercedes-Benz S 550 | 4Matic®, Base | 4.6L V8 – Gas |
| 2016 Mercedes-Benz S 550 | 4Matic®, Base | 4.6L V8 – Gas |
| 2015 Mercedes-Benz S 550 | 4Matic®, Base | 4.6L V8 – Gas |
| 2014 Mercedes-Benz S 550 | 4Matic®, Base | 4.6L V8 – Gas |
| 2018 Mercedes-Benz S 560 | 4Matic®, Base | 4.0L V8 – Gas |
| 2017 Mercedes-Benz S 600 | Base | 6.0L V12 – Gas |
| 2016 Mercedes-Benz S 600 | Base | 6.0L V12 – Gas |
| 2015 Mercedes-Benz S 600 | Base | 6.0L V12 – Gas |
| 2016 Mercedes-Benz SL 400 | Base | 3.0L V6 – Gas |
| 2015 Mercedes-Benz SL 400 | Base | 3.0L V6 – Gas |
| 2018 Mercedes-Benz SL 450 | Base | 3.0L V6 – Gas |
| 2017 Mercedes-Benz SL 450 | Base | 3.0L V6 – Gas |
| 2018 Mercedes-Benz SL 550 | Base | 4.6L V8 – Gas |
| 2017 Mercedes-Benz SL 550 | Base | 4.6L V8 – Gas |
| 2016 Mercedes-Benz SL 550 | Base | 4.6L V8 – Gas |
| 2015 Mercedes-Benz SL 550 | Base | 4.6L V8 – Gas |
| 2014 Mercedes-Benz SL 550 | Base | 4.6L V8 – Gas |
| 2013 Mercedes-Benz SL 550 | Base | 4.6L V8 – Gas |
| 2018 Mercedes-Benz SL 63 AMG® | Base | 5.5L V8 – Gas |
| 2017 Mercedes-Benz SL 63 AMG® | Base | 5.5L V8 – Gas |
| 2016 Mercedes-Benz SL 63 AMG® | Base | 5.5L V8 – Gas |
| 2015 Mercedes-Benz SL 63 AMG® | Base | 5.5L V8 – Gas |
| 2014 Mercedes-Benz SL 63 AMG® | Base | 5.5L V8 – Gas |
| 2013 Mercedes-Benz SL 63 AMG® | Base | 5.5L V8 – Gas |
| 2018 Mercedes-Benz SL 65 AMG® | Base | 6.0L V12 – Gas |
| 2017 Mercedes-Benz SL 65 AMG® | Base | 6.0L V12 – Gas |
| 2016 Mercedes-Benz SL 65 AMG® | Base | 6.0L V12 – Gas |
| 2015 Mercedes-Benz SL 65 AMG® | Base | 6.0L V12 – Gas |
| 2014 Mercedes-Benz SL 65 AMG® | Base | 6.0L V12 – Gas |
| 2013 Mercedes-Benz SL 65 AMG® | Base | 6.0L V12 – Gas |
---